Upcoming Events:
23 October 2013:  In London, the Frontline Club will be hosting Khodorkovsky: A Decade Behind Bars, a reading of a selection of Khodorkovsky's writings adapted for an exclusive performance and directed by Noah Birksted-Breen, the artistic director of the Sputnik Theatre Company. A panel will follow chaired by Edward Lucas, the international editor of The Economist and featuring Sir Tony Brenton a former British Diplomat, who served as Ambassador to Russia from 2004-2008, Ben Judah who reported for Reuters in Moscow before joining the European Council on Foreign Relations in London as a Russia analyst and Tonia Samsonova, a foreign correspondent working for Russian radio station Echo Moskvy.
25 October 2013: The International Literature Festival Berlin (ilb) is organizing a worldwide reading in solidarity with Mikhail Khodorkovsky, Platon Lebedev and all political prisoners in Russia. More than 80 international writers will be supporting the appeal, among them Nobel laureates in Literature Herta Müller, Elfriede Jelinek, Mario Vargas Llosa and John M. Coetzee. Information on those organizations participating in the reading and how to join tthem can be found at www.worldwide-reading.com

25 October 2013: Amnesty International France, the International Federation of Human Rights (FIDH), Reporters without Borders (RSF), the Ligue des Droits de l'Homme , ACAT and Russie-Libertes will be holding a solidarity event in Paris. Running from 6pm to 2am, the event will include a forum with testimonies from Russia regarding the working camps, then a photo exhibition presenting some of the "Russian Visionaries" images and a reading of a text from Khodorkovsky's new book in the context of the worldwide readings event.  A pop and rock concert will follow featuring young French and Russian bands, including the rising star, critic of the Kremlin, Vasya Oblomov. The evening will conclude with a set by DJ and famous French journalist Ariel Wizman.
Past Events:
23 October 2013:  The Henry Jackson Society hosted a panel discussion in the UK Parliament with Sir Tony Brenton, British Ambassador to Russia between 2004 and 2008; Edward Lucas, international editor at The Economist; Mary Dejevsky, chief editorial writer at The Independent; and John Dalhuisen, Europe and Central Asia Programme Director at Amnesty International. 
22 October 2013: In Washington DC, the Institute for Modern Russia (IMR), Freedom House, and the Lantos Foundation for Human Rights and Justice held a special event in the Russell Senate office building to recognize the 10th anniversary and highlight the cases of Sergei Magnitsky, Alexei Navalny, the Bolotnaya protesters, Pussy Riot, and Anna Politkovskaya.  This event, titled A Decade of Injustice, featured a photo exhibit of Russian activists persecuted for their fight on behalf of democracy,  freedom and the rule of law.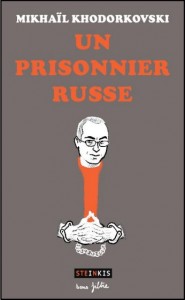 16 October 2013:  Khodorkovsky's new book "A Russian prisoner" by Editions Steinkis (110 page, 10€) was published in France. 
This book is initially published in French, translated from Russian by Veronika Dorman, the Moscow based correspondent for the French daily newspaper Liberation.  It contains 17 short stories, some of which have already been published in the Russian opposition magazine New Times.
Neither Yukos, nor the Kremlin are mentioned in the book, as Mikhail provides portraits of his fellow prisoners, common law 'criminals' of today's Russia, which he has met in the labour camps- gulags- where he has been living for the last 10 years. The conclusions he is able to draw are far beyond a simple description of the prison system.
Quoting Anastasia and Pavel Khodorkovsky, his children who prefaced the book: "through these stories, we can see a vision of today's Russia: a profoundly corrupted state, unscrupulous and corrupt civil servants [...] The vertical of economic corruption, but also the corruption of minds".
10 October 2013: Pavel Khodorkovsky met with the UK Foreign Minister David Lidington.  They discussed Mikhail Khodorkovsky's experience of being convicted and imprisoned in Russia. Mr Lidington called for Mikhail Khodorkovsky to be released in August 2014:
"It has been ten years since Mikhail Khodorkovsky was arrested. His experience revealed serious flaws in the Russian judicial process, and his case has rightly attracted international attention.
We have significant concerns about the processes used to convict Mikhail Khodorkovsky and continue to call for him to be released according to schedule in August 2014. This would represent a positive step towards demonstrating the fair application of law in Russia."

9 October 2013:  In London the Legatum Institute held a panel event featuring Peter Pomerantsev, Anne Applebaum, and Pavel Khodorkovsky entitled "Russia: A Postmodern Dictatorship?"
In his opening remarks, Pavel Khodorkovsky stated that his father's case was an early warning sign that justice in Russia is nothing more than a charade. He also talked about how his father remains committed to a vision for a democratic state, based on a strong civil society.
Peter Pomerantsev, whose report Russia: A postmodern Dictatorship? was a basis for the discussion, warned that the West is now seen as a problem, rather than a solution and asked if it was time to start talking about anti-corruption as a human right.
Pomerantsev's paper mentions Mikhail Khodorkovsky: "the Kremlin's priority is to show it has full control of the script, a principle which also shapes the Russian regime's use of show-trials against potential independent actors. The 2009 trial of non-conformist oligarch Mikhail Khodorkovsky and the 2013 trial of opposition leader Alexey Navalny were punctuated with absurdity. In both cases, the initial charges were nonsensical: Khodorkovsky was alleged to have stolen oil from himself, while Navalny was alleged to have taken part in corrupt business deals from which he extracted no profit. The testimony of defence witnesses was used as proof of guilt by the sentencing judge in both cases. But this absurdity appears to be deliberate. It proves to the public that the Kremlin can re-imagine reality at will, can say 'black is white' and 'white is black' with no one able to contradict."
Another joint Legatum Institute/Institute for Modern Russia event was held at the National Endowment for Democracy in Washington, DC on October 15.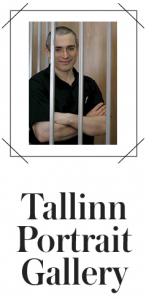 8 October 2013: The 'Tallinn Portrait Gallery', an art gallery in Estonia, opened an exhibition dedicated to Mikhail Khodorkovsky, entitled 'Prison and Freedom.'
A collection of photographic works by New York based photographer Misha Friedman and a selection from Mikhail Khodorkovsky's personal photo archive will be available for viewing from October 3 until November 13.
In an exclusive interview with the Russian online newspaper Postimees, Pavel Khodorkovsky said that he dreams of an actual meeting with his father. In the past ten years they have only stayed in touch via phone calls or letters: "When I will speak with him this Sunday, I will tell him that there is an exhibition about him in Estonia," he said.
The exhibition is supported by The Institute of Modern Russia.
7 October 2013:  The cause of human rights in Russia was celebrated by a live concert "To Russia with Love" in Berlin. The event includes a classical music concert and an NGO information forum with a panel discussion on the situation with regard to human rights and civil society in Russia.  You can watch a video of the entire concert for free here.
Speaking in an interview with the New York Times before the concert, violinist Gidon Kremer said: "Our concert reaches out a hand to all those who are fighting bravely against all threats for freedom and human rights. Music can be a sign of solidarity; can be understood as a plea for human strength and support."
The performance included a new work, "Angels of Sorrow," by Giya Kancheli, which was dedicated to Mikhail Khodorkovsky, a former oil tycoon and Kremlin critic who is imprisoned in Russia. The piece featured simple melodies sung in the clear voices of the Shchedryk Children's Choir, from Kiev, Ukraine, interposed with jarring chords of the piano or the xylophone.
"I cannot remain indifferent to the endless manifestations of ruthlessness and violence, which is perhaps why sadness and sorrow prevail in my music," Mr. Kancheli said. "The work is dedicated to all innocent victims."
29 September 2013: Mikhail Khodorkovsky was awarded the prestigious 2013 Lech Walesa Award for "courage in promoting the values of civil society".  His son Pavel, received the award on behalf of his father in the Polish city of Gdansk. At the ceremony, which coincided with Lech Walesa's 70th birthday, Mr Walesa said: "I hope that our recognition of Khodorkovsky's suffering and fight will have positive results." This year, 2013, also marks the 30th anniversary of the Nobel Peace Prize awarded to Lech Walesa.
Pavel Khodorkovsky read a message from his father, displaying his gratitude to Mr Walesa and the jury: "A gesture like this coming from you [Lech Walesa] is important not only to me and to my family and friends, but also to the many hundreds of people — if not thousands already — who are imprisoned in Russian jails because of their civic position."