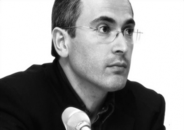 Before his release on December 22, 2013, Mikhail Khodorkovsky was one of Russia's most well-known political prisoners. In May 2011, Amnesty International declared Khodorkovsky to be a prisoner of conscience. Prior to his arrest on October 25, 2003, Khodorkovsky had been known as one of Russia's most successful entrepreneurs and as a pioneering philanthropist. He led the fight against corruption in Russia, encouraged inward investment and promoted civil society; actions he hoped would make Russia a global leader in the 21st century. His actions however came up against a process of consolidation by the Kremlin of the country's power and wealth. Since his arrest Khodorkovsky has endured two show trials and served more than 10 years of his sentence before being pardoned and released.
BEFORE YUKOS
Khodorkovsky was born on June 26, 1963, the only child of Marina and Boris Khodorkovsky, who worked as chemical engineers at an industrial tool plant. He followed in the footsteps of his parents, studying at Moscow's Mendeleev Institute of Chemical Technologies.
From a young age Khodorkovsky saw the importance of modernising Russia's increasingly outmoded technological and scientific infrastructure and in 1987, at the age of 24, he founded the Youth Centre for Scientific and Technical Development, to provide market research to large manufacturers and introduce them to new technologies. In 1989, following the development of a successful import-export business, Khodorkovsky acquired a banking license and with several business partners formed Bank Menatep, one of the first commercial banks in Russia. Subsequently, Khodorkovsky and his business partners established Rosprom, a diversified holding company, precursor of Group Menatep Limited.
With the collapse of the Soviet Union in 1991, Russia inherited huge state-owned industries run by ineffective "red managers" resistant to modernisation and plagued by corruption and organised crime.
Due to mismanagement and underinvestment, the infrastructure of the Yukos Oil Company was crumbling and its wells produced a fraction of their peak capacity at inflated costs. In 1996 Khodorkovsky and his business partners invested in a majority stake in Yukos when the company was put up for privatisation under the Yeltsin administration's "loans for shares" programme, through which investors lent the state money in return for the right to purchase state assets. At the time, Yukos was producing just half a million barrels of oil per day, compared to 1.4 million in 1987, at a cost of up to $12 per barrel. It also had between $2-3 billion in debt (read more in The Yukos Library). Yukos was acquired for $309 million, the price set by the state in the privatisation process. At the time Russia prohibited foreign investors from acquiring assets in its oil industry. In fact, few investors had any appetite for Russian assets due to the many risks inherent in Russia in the 1990s, including the prospect of return to power of the communist party in the 1996 presidential election. In the months prior to the election, according to polls President Boris Yeltsin lagged far behind communist leader Gennady Zyuganov, who had announced that he would reverse privatisations if elected.
Although in the end Zyuganov was not elected, matters for Yukos worsened with the 1998 Russian financial crisis. The price of oil was $8 per barrel, and the production cost was $12 per barrel. Demand on the domestic oil market plummeted and exports were blocked. There was no money to pay salaries or to pay down debts.
With his partners, Khodorkovsky implemented an historic turnaround. In the span of a few years, they reduced per barrel costs to $1.5 and increased production to over one million barrels per day. By 2003, Yukos and its subsidiaries had a market capitalization of $21 billion, and produced 20 per cent of Russia's oil – the equivalent of 2 per cent of world production. The company had become the second-largest taxpayer in Russia after the state gas monolith Gazprom, contributing 4.1 per cent of the Russian federal budget.  In 2002, Vedomosti, Russia's leading business daily, jointly published by the Financial Times and the Wall Street Journal, awarded Khodorkovsky its annual "Entrepreneur of the Year" prize. Yukos was the envy of Khodorkovsky's peers and many of his contemporaries began plotting the "Yukosisation" of their own companies. Shares could be acquired not only in Russia but also on the major stock exchanges of the United States and Europe. Yukos was considering full floatation on the New York Stock Exchange. By mid 2003 a merger with Sibneft had been agreed and talks for selling a major stake to Exxon Mobil or Chevron were well advanced.
President Putin himself congratulated Yukos on its 10th birthday in 2003. He was quoted saying: "Competently employing modern scientific and technical achievements, Yukos is confidently moving on a trajectory of stable growth."
"Ever since I was a child, I wanted to become the director of a plant. Not a cosmonaut, not a military man, but a director." – Khodorkovsky, in a letter to Boris Akunin, published in Russian edition of Esquire, October 2008