Awards and Nominations
For his acclaimed writings and brave commitment to a free and democratic Russia, Khodorkovsky has received or has been nominated for numerous prizes.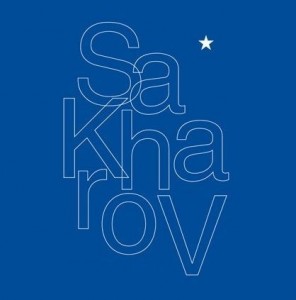 Sakharov Prize for Journalism as an Act of Conscience
In December 2011, Khodorkovsky was among the top four finalists nominated for the Sakharov Prize for Journalism as an Act of Conscience, for his articles published in Novaya Gazeta. Since 2001, the prize has been awarded to journalists who defend the values of the eminent Soviet nuclear physicist, dissident and human rights activist Andrei Sakharov. Khodorkovsky's mother, Marina, received an honorary certificate on her son's behalf.
Dr Rainer Hildebrandt Medal
In December 2010, Khodorkovsky was awarded the Dr Rainer Hildebrandt Medal, an international human rights award in recognition of extraordinary, non-violent commitment to human rights. Khodorkovsky won the award alongside his human rights lawyer, Yuri Schmidt, and Hungarian reformer Imre Pozsgay. The jury for the award includes, amongst others, Nobel Peace Prize Laureate Henry Kissinger, President of Germany Joachim Gauck and former German foreign minister Hans-Dietrich Genscher. In a laudatory speech, Markus Löning, the German government's human rights commissioner, expressed his respect for Khodorkovsky for standing for a free Russia where human rights have meaning. In a letter to Khodorkovsky, Nobel Literature Prize Laureate Herta Müller underlined that he is imprisoned because "he called for democracy in Russia" and compared his commitment to a peaceful transition with that of Chinese Nobel Peace Prize Laureate Liu Xiaobo.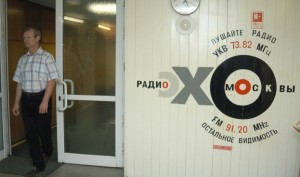 Newsmaker of the Year
In October 2010, Ekho Mosvky Radio announced the creation of a Newsmaker of the Year Award, giving the title to a different individual for the past twenty years. For 2003, the year of his arrest, the award was attributed to Khodorkovsky. Other recipients included the murdered journalist Anna Politkovskaya for 2006 and Russia's market reform architect Yegor Gaidar for 1992.
European of the Week
In May 2010, Khodorkovsky was named "European of the week" by Radio France International for his ongoing capacity to force the Kremlin to react, despite his imprisonment since 2003. The award came after the success of a hunger strike by Khodorkovsky, which drew then-President Medvedev's attention to the disrespect of Russian officials and courts for recent legal reforms. RFI awarded Khodorkovsky this honour again in 2013, following his 50th birthday on June 26.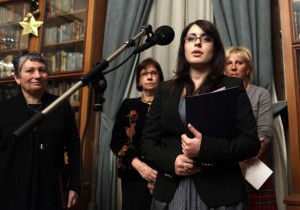 Znamya Literary Prize
In January 2010, Khodorkovsky received a literary prize for his correspondence with Russian Booker Prize recipient Lyudmila Ulitskaya. The annual prize, which has been awarded by Znamya magazine for more than 20 years, was received by Khodorkovsky's daughter Anastasia at a ceremony in Moscow. The prize funds were donated to the Podmoskovny Lyceum in Koralovo.
Lech Walesa Award
On September 29th 2013 Mikhail Khodorkovsky's son Pavel received the Lech Walesa Award from Lech Walesa, former President of Poland and leader of the Solidarity movement. Khodorkovsky was being recognized for "courage in promoting civil society values," building foundations of economic freedom and "unwavering struggle for justice and human dignity."
Gazeta Wyborcza Man of the Year
On the occasion of the 25th anniversary of the launch of the Polish newspaper Gazeta Wyborcza on May 9th 2014, Mikhail Khodorkovsky was presented with the '2014 Man of the Year' award by editor Adam Michnik. Michnik said Khodorkovsky became a symbol of truth about today's Russia, symbol of weakness of Russian ruling elites and symbol of Russian pride and honour, courage and hope.
Knight of Freedom Award 2016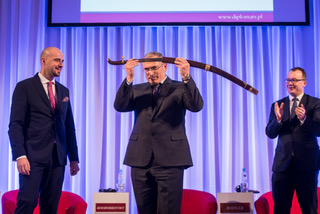 On December 2016, Khodorkovsky was awarded the Knight of Freedom Award by the Casimir Pulanski Foundation. Named after the hero of the Polish insurrection of 1768 General Casimir Pulanski (1745-1779), the foundation gives out a yearly award to one outstanding individual who has promoted the values of freedom, justice and democracy. In the words of the head of the foundation Zbigniew Pisarski, Khodorkovsky was awarded 'for his uncompromising efforts to build up the rule of law, civil society and promote European values in the Russian community.' The European Academy of Diplomacy, the leading programme of the foundation, is the first non-governmental, non-profit diplomatic academy in Europe that aims to shape, sharpen and inspire a new generation of enlightened international leaders.