"Go on then, cry! Are you scared?!" After June 12 Regional Authorities Take Things Into Their Own Hands
June 22, 2017
This article originally appeared on openrussia.org in Russian.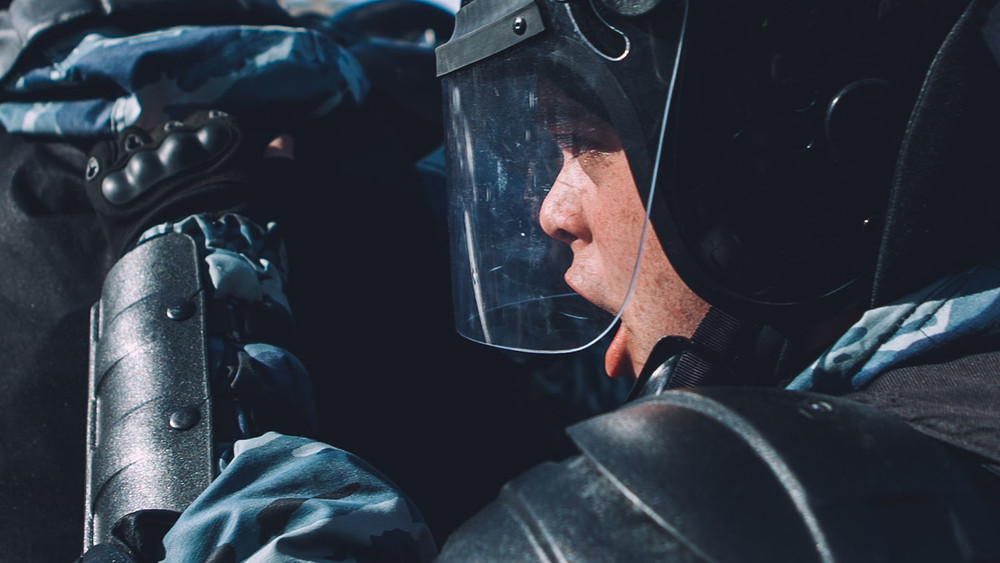 After the March 26 anti-corruption protests, the highest numbers of arrests were made in Moscow and St. Petersburg – 1043 and 131 people were reportedly detained in the two cities respectively. After the demonstrations of June 12, the landscape changed radically: dozens of people were detained at rallies and marches in several regions around Russia, despite the fact that the police had dealt with several activists and organizers in March. Open Russia has unearthed what lies behind this official crackdown.
"The police were even detaining people who had nothing to do with the rally"
In Sochi, a town traditionally known for its peace and quiet, half of those who attended the anti-corruption demonstrations were detained on June 12. Organizers had planned to hold a march in the city's central zone, but before it had even got going the police were detaining would-be participants. 48 people were detained in total.
As Valeriy Perevozchikov, a journalist at Sochi News, told Open Russia, the organizers of the rally tried to get permission from the city authorities to hold a rally in a park in Khost. On the eve of the rally, the city authorities announced that the space would be occupied by another event and invited Alexei Navalny's supporters to hold their event on June 13. The organizers of the rally did not agree to these conditions and decided instead to arrange a walk through the center of Sochi on the 12th.
"The police even detained people who had nothing to do with the political meeting," recounts Valeriy Perevozchikov. "They went to the nearest cafe and started checking people's passports. I climbed onto a nearby building and watched from above: at least two young people were detained. The police seemed to think they looked suspicious, so they were loaded into the bus. One person tried to escape, but he was caught and violently surrounded, despite wearing handcuffs.
Of the 48 who were detained and taken to the police department, the majority were released that same evening. As a result, 8 detainees were put under administrative arrest (from 5 to 10 days). Four more people received fines ranging from from 1,000 to 20,000 rubles.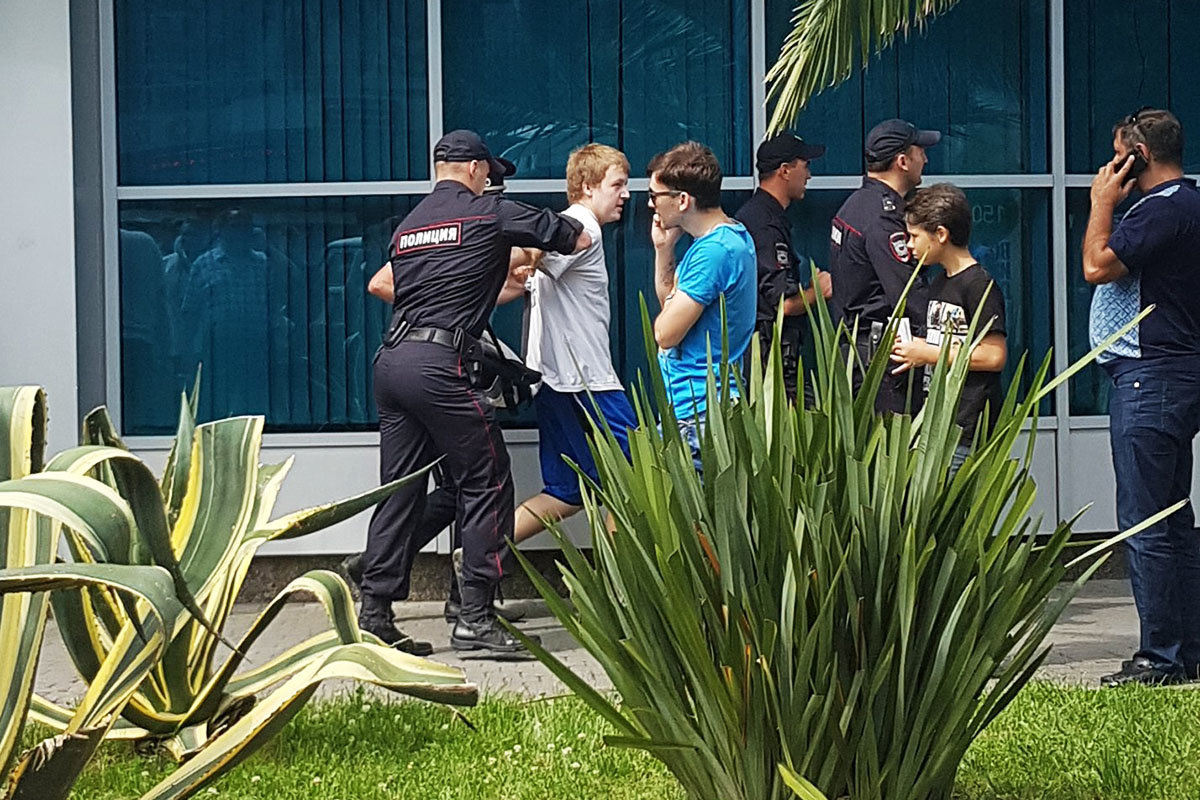 According to Valeriy Perevozchikov, the law-enforcement agencies behaved differently at an earlier rally: "On March 26th the rally was quite lively, and there were more people than there had been on June 12th. But everything was peaceful. However, then the park was closed on the pretext that a suspicious object had been found, supposedly. But people were walking and talking in the park, and no one was detained until one of the activists started shouting, "Let's discuss the resolution!" That showed it was a rally, not a walk. He walked to the police station, and the whole crowd of a hundred or so people followed in the same direction, along the central street, with some of them even shouting things. Apparently, after this procession, they decided to clamp down."
"Go on, cry! You scared?!"
One of the people detained reported on her Facebook page that she had witnessed this new, harsher official response as it was being used on 18-year-old Stanislav Alshanov.
"A man in a blue T-shirt stormed into the room where I was taken and where Stas [Stanislav] was already. Of course, he did not show any identification, he did not introduce himself. […] This man did not only shout at Stas. No. Right in front of me, he grabbed the young man's hand and tried to snatch his phone away from him. Then this oaf grabbed Stas, a slight, 18-year-old boy, and began pulling the phone out of his hands. Hard. What an animal. But it didn't stop there. The stranger in the blue T-shirt kept yelling at Stas, and when he saw that Stas was shocked, he openly mocked him, cruelly and angrily saying: "Go on, cry! You scared?! " Stas did not cry. He said that he was not afraid. All this took place in the presence of a policeman, who just stayed sitting at the table. When I took out my phone, the policeman jumped up and began to prevent me from filming… These "men" intimidated Stas for a long time. We were kept in the office a long time and threatened with unthinkable consequences. I quote: "Do you understand that after what you did, there is no way back?" Animals."
One of those arrested on June 12, Alexei Korovainy, had been dismissed from his post at the high school in Yeisk, where he had taught history and social studies.
This kind of extreme police response was not restricted to Sochi on June 12. The majority of those detained were in Moscow (866 detainees) and St. Petersburg (658 detainees). In the regions, it seems the police followed the example set by their colleagues in the capital.
According to ATS-Info, sources put the number of participants in the unsanctioned walk in Kaliningrad between 400 and 700, of which 45 were detained.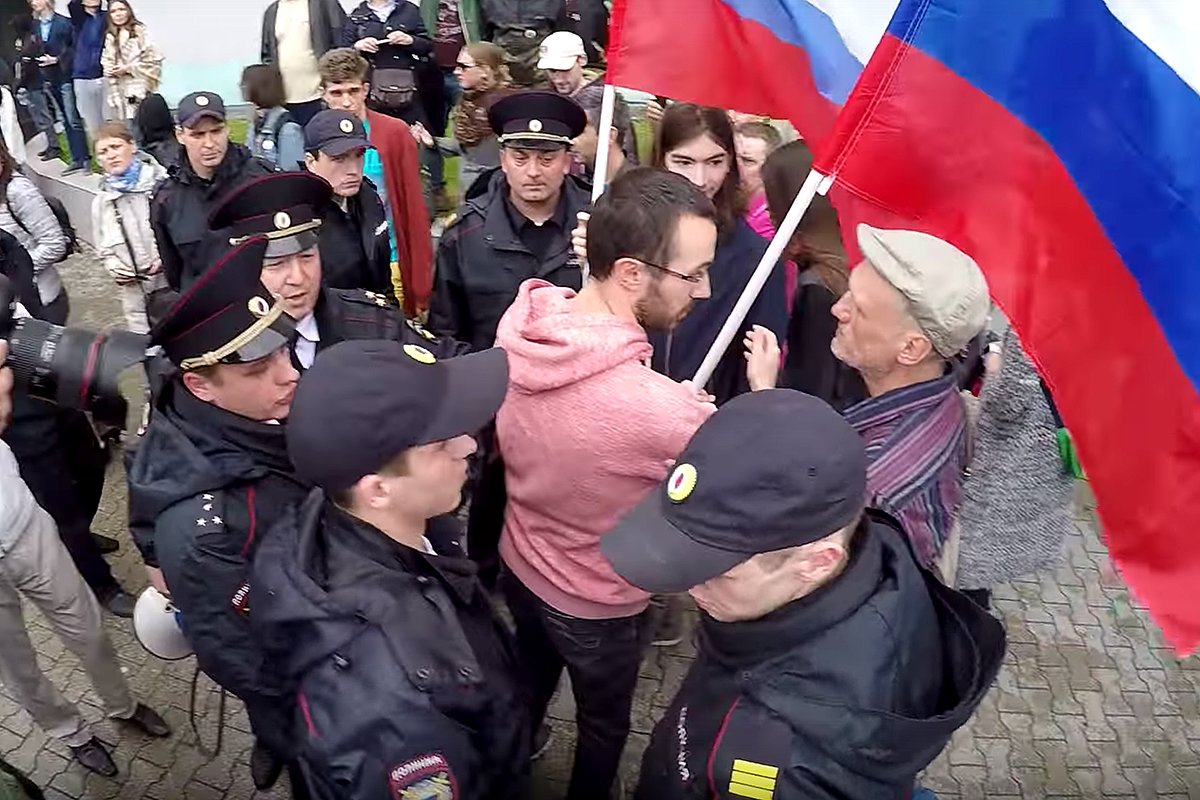 In Tula, out of 50 people who went to the rally, 24 were detained. On the eve of the meeting, the organizer of the rally — who is also head of Navalny's team in Tula — was detained for appealing against the ban on a proposed rally. He was arrested for seven days.
In Veliky Novgorod, an anti-corruption rally was attended by 300 people. Immediately after the rally ended at a location agreed to by the authorities, people continued marching. Some went on to Navalny's headquarters, where people had been detained. On June 12, 21 people were detained in Veliky Novgorod.
In Vladivostok, an unsanctioned rally was attended by between 200 and 1500 people (estimates vary), of whom 22 were detained.
"Those who are not confident in their position are the most brutal"
Political analyst Konstantin Kalachev believes that this heavy-handedness is an example of local authorities taking the initiatives: local government officials are trying to show that they are both loyal to the Kremlin and efficient:
"The excesses on the ground are inevitable – it's safer and smarter to be authoritarian than to demonstrate liberalism. The regional authorities want to demonstrate their loyalty, and also to show that they are troubled by the actions of Russia's "fifth column".
But it still depends on how comfortable individual regional leaders are, and how stable their position is. Those who are not confident in their position are the most brutal, to show that they are fighting the opposition. Those who are calm and assured of their position tend to act more wisely and try not to give the opposition free publicity by using repressive measures."
According to Kalachev, the "eagerness" shown by the regional law-enforcement agencies only worsens the image of the authorities and will not make people stop participating in protest actions: "Showing cruelty towards protesters is absolutely useless for the authorities. The use of excessive force sparks confusion and indignation even among those who did not take part in the protests."
After Bolotnaya, for some reason, some think it's better to exercise caution by using fear as a preventive measure – there are rumours of filming crowds using facial recognition, of detentions, of keeping track of who participated, of taking legal action against them, and so on. But if all this is a question of mass popular protest, then none of these measures will be effective."
Open Russia's Human Rights team have been working around the clock to provide help to those who were detained as a result of the anti-corruption demonstrations.  The team works exclusively on the basis of donations, so if you would like to support victims of political repression, please consider making a donation.