Justice for the Chechen Hundreds
June 6, 2017
A recent investigation by Russian independent newspaper "Novaya Gazeta" revealed staggering oppression of sexual minorities in Chechnya.  Chechen authorities have denied the accusations and have demanded that the Russian newspaper apologise.  Politicians, journalists and activists have been calling on Russia to investigate the claims, but so far the request has been met with a typically chaotic response from the Kremlin.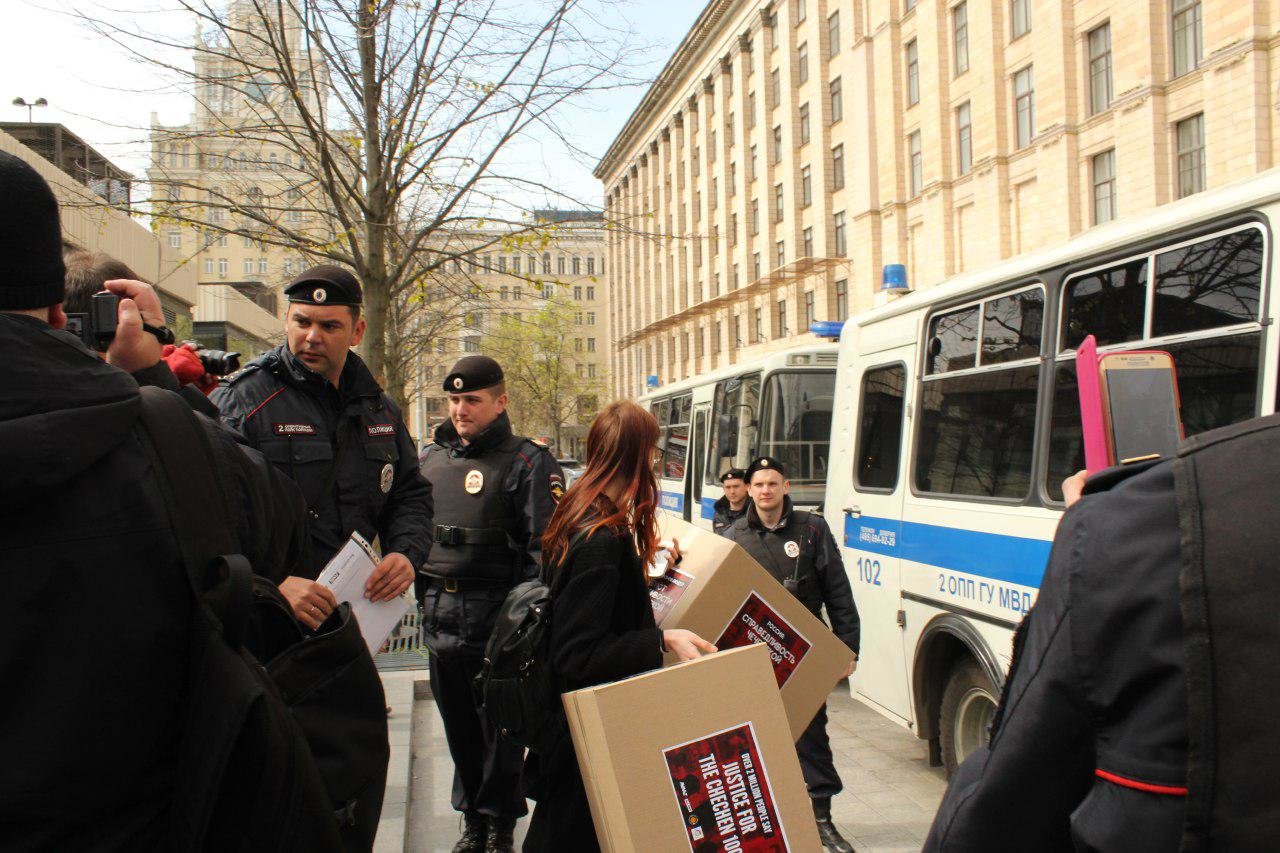 On May 11 police detained five activists for attempting to deliver a petition to the General Prosecutor's office calling for an official investigation into reports of widespread abuse of sexual minorities in the Republic of Chechnya.  The petition, named "Justice for the Chechen Hundreds", contained two million signatures which were all delivered en masse to the Prosecutor's office.
Five people, among them two Open Russia activists, were approached by police who demanded to see what was inside their cardboard boxes.  Activist Valentina Dekhtarenko reported that "the police said we were conducting an illegal demonstration… we're currently being taken to the Tverskaya police station."
Although Open Russia lawyers managed to secure a minimum punishment for the activists, the prosecution was symptomatic of the Kremlin's disorganised strategy in recent months.
An investigation carried out by independent Russian newspaper "Novaya Gazeta" exposed instances of hundreds of gay people being detained, tortured and even killed in Chechnya in the wake of rising anti-gay sentiment in the country over recent months.
Russia's response to allegations of abuse of minorities in Chechnya has been somewhat lacklustre.  The story immediately attracted international attention and subsequently became a topic of discussion between European leaders and Vladimir Putin in their most recent meetings.  Angela Merkel, in her first trip to Russia in more than two years, called for Vladimir Putin to use his influence to conduct a proper investigation of abuses in Chechnya.
Although the Republic of Chechnya is officially a part of the Russian Federation, for over a decade the country has enjoyed an extremely lenient status with president Vladimir Putin.  Chechnya has been described by activists as "de facto" not bound by Russian laws, and has even been linked to the killing of opposition politician Boris Nemtsov in 2014.
The Chechen authorities have categorically denied allegations of abuse, in fact, the Kadyrov administration went a step further and denied the existence of gays in Chechnya full stop.  When questioned by a foreign journalist, Kadyrov's spokesperson Alvi Karimov said that "If there were such people in Chechnya, the law-enforcement organs wouldn't need to have anything to do with them because their relatives would send them somewhere from which there is no return."
Regardless of the claims made by the Chechen authorities, Novaya Gazeta spoke to victims who described illegal detentions, beatings and even electric-shock torture.  One victim claimed that "In Chechnya even suspicion that a person is of an untraditional sexual orientation has a high chance of getting them killed."
Amnesty International director John Dalhuisen has stated that "the clock is ticking for gay men in Chechnya, who are living under the shadow of this terrifying purge."
As international pressure mounts on Vladimir Putin to conduct a full-scale investigation into the claims, the Chechen authorities continue to deny that any gay people exist in Chechnya, and have threatened Novaya Gazeta journalists for publishing "lies".
Maria Zakharova, spokeswoman for the Ministry of Foreign Affairs went viral on social media after she responded to a journalists's question on the Chechen question by publicly calling for Ramzan Kadyrov to organise an "introductory trip" for those who are interested in the fate of sexual minorities in Chechnya.
It's yet to be established whether this scandal will affect the special relationship between Putin and Kadyrov.  Mr. Kadyrov relies on the Kremlin for financial support, while Vladimir Putin considers Kadyrov to be the sole guarantor of peace in the region.
Nevertheless, the decision of the Russian authorities to prosecute activists for presenting millions of signatures in support of minorities in Chechnya is sending a very mixed message.  Going forward, the question will be whether the Kremlin is ready to compromise its pragmatic relationship with the Chechen republic in pursuit of justice.