Khodorkovsky Makes Way For Next Generation of Open Russia Movement
April 13, 2017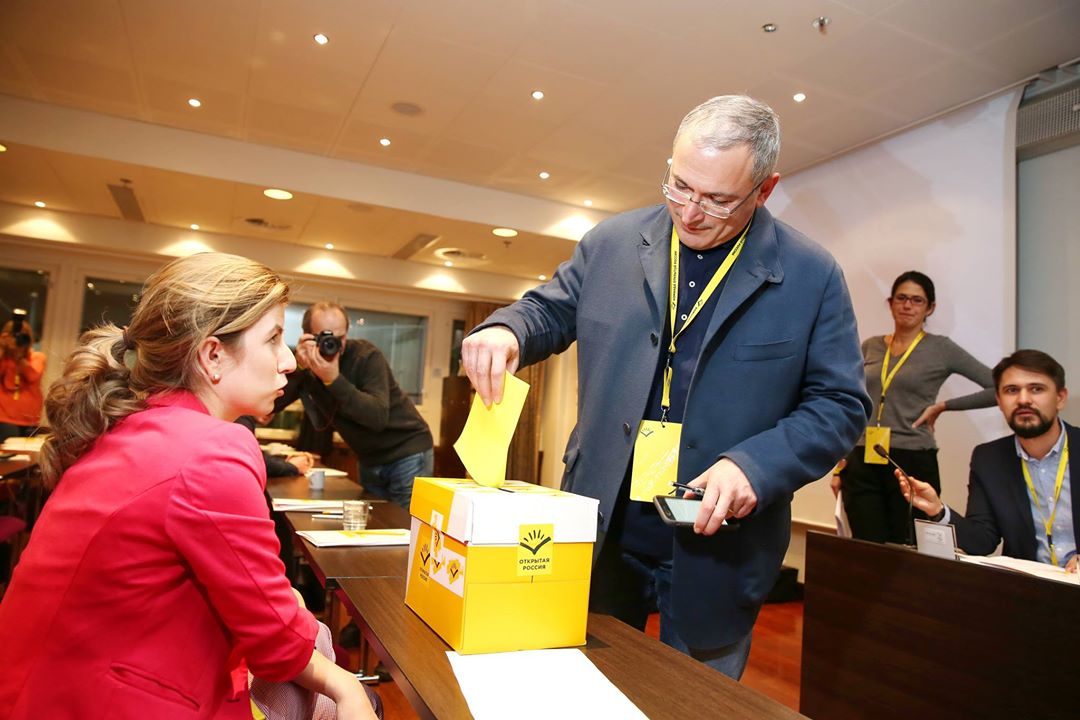 On April 16, 2017 at 12:00 local time the Open Russia movement will hold a press briefing in Tallinn, Estonia, where Mikhail Khodorkovsky will introduce the new chairman of the movement and members of the federal council who will be elected on April 15 at the Open Russia conference.
The decision to step down as chairman was made to allow fresh talent with new ideas to lead the movement as it seeks to strengthen and expand its influence throughout Russia.
"My part of the work here is done," Khodorkovsky said. "The movement is rapidly gaining supporters, mostly young and independent thinkers. I'm handing over the chairmanship to someone new.  I have new projects ahead of me." 
Since its inaugural conference in November 2016, the Open Russia movement has become one of the fastest-growing grass-roots organizations in Russia, attracting around 800 civil activists and uniting people of varying political and social positions. The movement's presence across the country has grown significantly, with offices now open in 21 Russian regions.
Over 70 of the movement's representatives are expected to participate in the Tallinn conference to review recent developments in the country and the results achieved by the movement since its inaugural conference in Helsinki November 2016.  The participants plan to vote for new members of the federal council and the movement's chairman as well as decide on the details of the previously announced #НАДОЕЛО (#Enough) campaign.
For further enquiries and media accreditation:
Maria Galitskaya
pr-ov@openrussia.org
+7-915-128-02-60
The briefing will be held in Russian.  The address of the briefing venue will be released at 18:00 on the 15th of April to all journalists who are accredited.  Journalists can attend the briefing by phone.
Additional information
Complete list of candidates to the Open Russia movement's federal council
Members of the current federal council:
Anton Drel (candidate nominated by Mikhail Khodorkovsky)
Vladimir Kara-Murza (candidate nominated by Mikhail Khodorkovsky)
Maria Baronova (Moscow)
Marina Belova (Tver)
Segey Kuzin (St. Petersburg)
Andrey Pivovarov (St. Petersburg)
Igor Savin (Novosibirsk)
Dmitri Semienov (Republic of Chuvash)
14 people have been nominated by regional Open Russia departments:
Alexander Soloviev (Moscow)
Andrey Potylitsyn (Ufa)
Konstantin Chadlin (Ufa)
Ilya Novikov (Kazan)
Ruzil Mingalimov (Naberezhnye Chelny, Republic of Tatarstan)
Daniil Potanov (St. Petersburg)
Natalia Griaznevich (St. Petersburg)
Ilya Nikolaev (Nizhniy Novgorod)
Artem Matveev (Novosibirsk)
Denis Kazarov (Novosibirsk)
Ernest Lukmanov (Cheliabinsk)
Elena Logvinenko (Korolev, Moscow region)
Nikolai Kladovoy (Rostov-on-Don)
Alisa Vasileva (Rostov-on-Don)
Independent candidates
Vladimir Zhilkin (Tambov)
Aleksey Prianishnikov (Tomsk)
Timur Valeev, executive director of the Open Russia movement
"Our sociologists have noticed a serious trend: people are fed up with Vladimir Putin, and we can see that society is demanding a change. Within our organisation we seek to adhere to the same democratic principles that Russian society are demanding from their leaders. One of these principles is the regular rotation of power by free and fair elections.  During our April conference in Tallinn, we will lay the foundations for the regular rotation of Open Russia's leader. The new chairman of the movement will be elected once a year, and subsequently forbidden to stand again for another 5 years after his term is finished.  Who is going to lead the Open Russia movement? The Tallinn conference will decide."