The Magnitsky Act is Taken Up by The US House of Representatives
November 14, 2012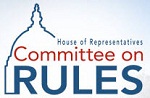 The House Rules Committee on Tuesday voted on a rule regarding H.R. 6156, "the Russia and Moldova Jackson-Vanik Repeal Act of 2012," containing the Sergei Magnitsky Rule of Law and Accountability Act.
The bill enables those suspected of persecuting human rights and democracy activists, including Khodorkovsky, to be held responsible for their actions. Representative Sandy Levin (D-MI) testified for the Magnitsky Rule of Law and Accountability component part of the bill. Levin suggested the Bill was not perfect and that it would not solve every human rights problem in Russia, but that it was a "step in the right direction".
The legislation now will move to the House floor for a debate, the date and time is yet to be assigned by the Majority Leader.
Video of the hearing

Levin's testimony can be found at 14:35