The Moscow City Court is Happy With Eight Year Sentence for Vladimir Dubov
October 19, 2012
Defence team complaint dismissed
RAPSI (original article in Russian) 18.10.2012.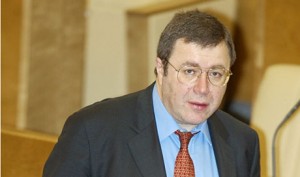 The Moscow City Court on Thursday dismissed the appeal against the verdict of the former co-owner of Yukos, Vladimir Dubov, who has been sentenced in absentia to eight years in prison for embezzlement of budget funds.
Zamoskvoretsky court of Moscow found Mr Dubov guilty on August 1 under Part 4 of Article 159 (fraud) and Part 3 of Article 165 (causing property damage with no signs of theft) of the Criminal Code.
According to the investigation, the theft was committed in violation of a tripartite agreement signed between the Ministry of Finance, the company "Yuganskneftegaz" (a subsidiary of Yukos) and the administration of the Volgograd region. Dubov was charged with embezzlement of funds allocated from the budget for the construction of housing for servicemen, the bridge over the river Volga and the waterway in the Volgograd region.
After the announcement of the indictment, Dubov issued a statement noting that the judgment had nothing to do with justice, and promising to appeal the verdict in accordance with Russian and International law. He is convinced that the motives of his prosecution are political, because the case itself lacks any evidence of a crime.
Dobov is one of many senior Yukos figures, prosecuted as part of the systematic destruction of Yukos and expropriation of its assets by the Russian government.